Do you know how to choose the suitable wedding venue?
Every people wants their wedding to be perfect and unforgettable. For this reason, the first item to consider is how to choose a suitable wedding venue.
If you have no idea what to think about and what to skip in this experience that you will have for the first time, come to our content to clear the clouds in your head a little.
In this way, the answers to questions such as how to choose a wedding venue and how to choose the right wedding venue will become clear in your mind.
Budget is the most important thing in choosing a wedding venue
The first thing to consider before choosing the right wedding venue is the wedding budget. The prices of wedding venues are different from each other and each venue brings a few advantages and disadvantages besides the price. First, set a price quota for yourself and filter the wedding venues accordingly. If you only look at wedding venues that fit your budget, you will not be disappointed and you can have the wedding of your dreams.
Before you make any plan, you have to think about musts listed above:
Talk to a Planner First
Choose a Venue That Aligns With Your Vision
Prepare Your Guest List
Consider Your Guests' Experience
Think About What Is Included
Stay True to Yourselves
Talk To a Planner First:
Planners are much more familiar with the capabilities of a space, the layout, and the time and items you'll need to really transform it. If there's a creative way to make it unique or a quirk about the space that could make your vision hard to accomplish, your planner will know about.
Choose a Venue That Aligns With Your Vision:
Choosing a venue that fits your decision after consulting with a planner will keep your wedding more connected to the venue. If you are planning a modern wedding; art galleries or a well-designed restaurant area would be ideal places for you. If you have planned a wedding with natural elements, then choosing an easy location for access and outdoor spaces such as parks, gardens, farms will be perfect places for you.
Prepare your guest list
After deciding whether the wedding will be indoor or outdoor, the second most important issue is the number of guests. How many people will you invite to your wedding? Keeping a place without answering this question can put you in a difficult situation. You may need help preparing the guest list for the wedding.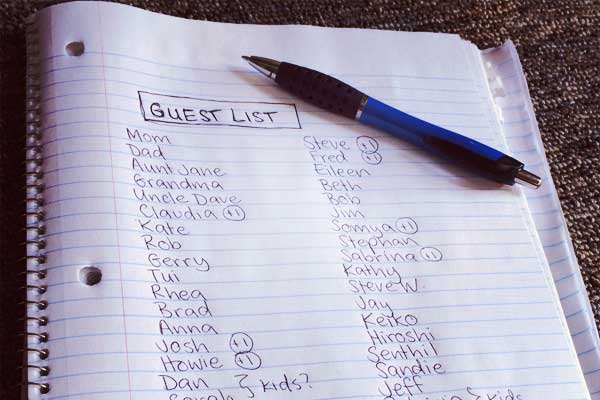 Consider Your Guests' Experience and Think About What's Included
So much wedding advice stems from the idea that it is your day, so you should do what is most important to you. However, it's important to consider your guests when you are making your wedding decisions as well. You're inviting all these people to celebrate with you because (hopefully) you love them and they love you. You want to make sure they have not only a good time but are also left feeling valued and cared for.
The guest experience is a hot-button topic this year in the world of weddings, so we've reached out to a group of vendors and wedding industry experts to find out the most unique and creative ways to surprise and delight your guests, making their experience at your wedding a memorable and personal one.
Share a Grateful Greeting
First thing's first, you want to nail the greeting. It's becoming very common for couples to leave gift bags or welcome baskets for their guests when they check-in to their hotel for the wedding weekend. This is a really wonderful way to greet your guests upon arrival as it will be their first impression of your event. Welcome bags are a great way to make your guests feel pampered and appreciated. You can fill them with items that will be helpful for them to have on hand throughout the weekend, such as bottled water, mints, snacks, pain relievers and more. It's also fun to add more luxe treats like fancy chocolates, mini bottles of Champagne, or local delicacies such as organic homemade jams or local honey.
Want to go for something a little more active and experiential rather than a physical token of your appreciation? Consider a chartered city excursion that takes your guests from their hotel lobby to tour the area and discover some local flavor. You could also consider bringing a yoga teacher to the hotel for a morning workout for the guests.
Make a Grand Entrance
Whether that's something that your guests experience themselves or seeing the bride and groom making a unique or surprising entrance to the reception, it is sure to make for an unforgettable moment.
Perhaps you'll set up a really unique entryway for your guests to walk through to get to your reception space, or maybe you and your new spouse will pop out of a fake wedding cake to enter your reception. Many couples are opting to enter their receptions by jumping right into a choreographed dance routine for a fun and exciting entry to their celebrations. Whatever you decide, you'll be sure to make an impression with a grand entrance for your guests to experience.
Focus on a Few Key Items
Just like with your wedding budget, you need to make priorities. Choose a few key places to implement unique and surprising details or experiences. Fabrice Orlando of Cocoon Events recommends focusing your efforts on two places in particular. "Generally, there are two aspects that guests appreciate and remember the most—the food and the entertainment. Invest in the very best catering and high-quality entertainment and you can't go wrong!"
You could hire any number of interesting and unique performance groups, from acrobats to fire twirlers, to sleight-of-hand magicians to entertain your guests throughout the evening.
Incorporate Fun and Games
Who says that the performers have all the fun? Incorporate some games into your wedding reception for your guests to engage with and play. Think about including a word search or crossword on your wedding program or include a notebook at each table for your guests to impart their words of marital wisdom.
Want to keep the kiddos entertained and happy? Arrange a children's area with arts and crafts at a special kids' table decorated just for them. Have custom wedding coloring books, crayons or markers, and other simple crafts for your smaller wedding guests.
Find Ways to Include Your Guests in the Festivities
Consider including your guests into your wedding in a truly meaningful way, by incorporating them into your ceremony! You could have them take a vow with you or recite community vows. You could also have your guests bless your rings by passing them throughout the audience. Of course, one way to let your guests know their presence is appreciated is by greeting each of them personally in a receiving line after the ceremony.
It's common at weddings for there to be fun little games where the guests can encourage the happy couple to kiss, such as by tapping your silverware on your glassware. It's a simple and sweet way to get the crowd involved in the celebration.
Interactive Catering Stations
In addition to interactive activities and performers, another really engaging wedding trend is interactive catering stations or food displays. Mike Busada of Mike B Photography says, "I was hired to photograph a wedding where the food stations were opened at different times, each about an hour apart, throughout the evening."
Some of the ideas for interactive food stations Mike has seen include a pasta bar where guests chose the type of pasta, protein, veggies, and sauces they want. The pasta chefs make a bit of a show out of tossing the pasta with sauces over portable gas cooktops.
One popular food station idea is the Mongolian Grill, where guests can select their vegetables, protein, and sauces and put it in a silver bowl which the chefs then cooked on a large flame fired grill. The chefs then serve each guest their order in a Chinese carryout box along with a set of chopsticks.
Another fun interactive food station is a custom glazed donut dessert station where guests can pick the donut type they want as well as the type of glazing or topping. You could also consider a late night custom slider station featuring Angus beef and chicken sliders. An old-time ice cream cart, lemonade stand or popcorn trolley also makes for a fun addition to your wedding reception. S'mores bars are also incredibly popular and a fun way to treat your guests to something sweet in a unique format.
Make a Mark
Giving your guests a memorable experience is about so much more than giving them cute wedding favors. We hope these ideas inspire you to add some extra unique details that will give your wedding that special wow factor. Taking a cue from these expert suggestions will help you make a mark in your guests' minds so they remember your wedding for years to come.
Stay True to Yourselves
It's important to ask yourselves what feels authentic to you two as a couple, and to choose a space and a design that's a representation of who you are. And remember that, while a venue might have looked gorgeous with a different theme or design scheme, it may not be the perfect canvas for yours.