To cool off during the hottest season and have fun with friends and family, these are the best above ground removable pools with quick installation to buy and how to choose according to your needs.
The above ground pools, also called ground pools , will make your dream of having a house with a pool , without having to proceed with costly facilities and high impact.
Versatile and robust, they represent a small luxury for everyone, highly appreciated especially on summer days when you are looking to cool off a bit.
The ideal place to install these pools is the garden and, in general, they differ from each other by the type of material with which they are built, by the anchoring system to the ground, by design and aesthetics.
However, the common element of all these installations is the fact that they are removable . Precisely for this reason, they do not require permits or bureaucratic delays, as is the case with much more expensive in-ground pools .
This aspect is also interesting for those who live by renting and may not be able to create works. In addition, to move it, you will simply have to disassemble it and put it back together in the new space.
Most models have assembly times that range from 60 to 90 minutes, or even 15 minutes, as is the case with some Intex removable pools . Therefore in a short time you can have your own pool where you can relax and have fun with friends and family.
The best above ground pools to buy
Intex 26352 Ultra Frame
Intex 28404EX Inflatable Bubble Spa
Bestway 56408 Steel Pro
Intex 56994 Metal Frame
Intex 28272NP Small Frame
Below is the complete list of removable pools chosen for their value for money and recommended for purchase, with the main technical characteristics and prices.
Gre KIT500W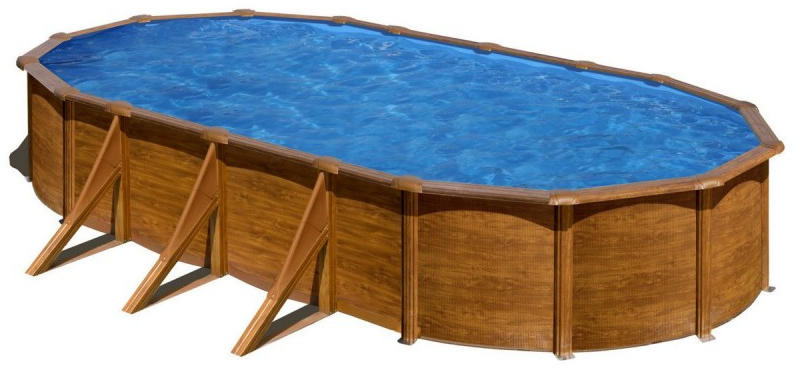 The best removable wood effect pool
Removable rigid oval garden pool
Dimensions 500 x 300 x 120 cm
Steel structure
Wood effect design
30/100 blue PVC coating
Skimmer 3m³ / h and sand filter
2 stairs with 3 steps
Protection angle
4 side reinforcements
4-year warranty on the metal structure
The best and most interesting in our opinion is the Gre KIT500W removable oval garden pool made of steel and wood. With its 500 x 300 cm structure, this elegantly designed wash-down pool blends in perfectly with any type of garden. Assembly is easy, while the weather-resistant structure is made with excellent finishes , which also include the side ladders and steps. As well as skimmer and sand filter are included.
Product description:
Oval steel wall swimming pool with wooden decoration
Commercial size: 500 x 300 x ↕120 cm
Fastening system: with side posts
Reference: KIT500W
Dimensions:
External measurement: 527 x 500 x 122 cm
Interior measurement: 509 x 300 x 120 cm
Water volume: 14.55 m³


Bestway 56448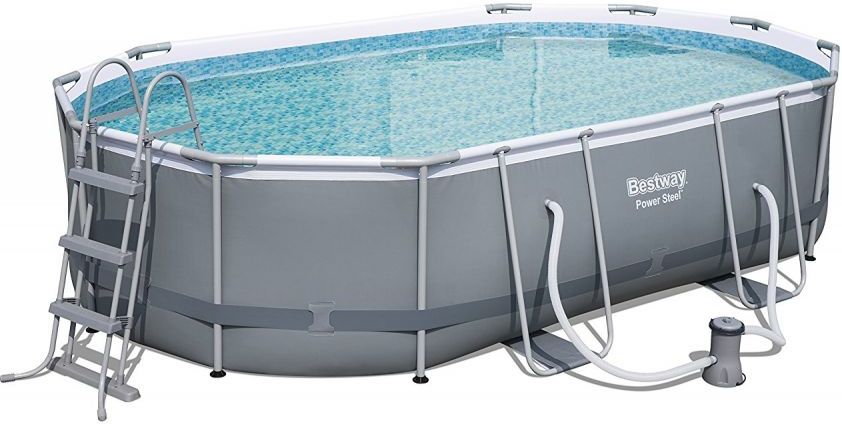 The best for those looking for a great pool
Removable deep tubular pool
Quick assembly without tools
Steel frame with anti-corrosion
3-layer reinforced material with a polyester mesh core and 2-layer PVC
"Flowclear" system keeps the pool free of microbes and bacteria
Includes purifier, filter, chemical dispenser, ladder, cover and floor mat
Measurements: 488 x 305 x 107 cm
Easy set up, rust-resistant metal frames with heavy-duty PVC and polyester 3-ply side walls. 3-ply band provides additional wall support. Built-in flow control drain valve makes it easy to drain by attaching the valve to a garden hose (with included adapter) to drain away water . Underwater adhesive repair patch . The extra strong side walls are made with 3 separate layers of material. The inner layer of polyester mesh is Laminated to the 2 outer heavy gauge PVC layers. This creates a total thickness of 0.40-0.80 mm (16-32 gauge) depending on the size of the pool.
Set includes pool, filter pump (220-240v, 800 gal pump water flow rate, 580 gal integrated pool system water flow rate), compatible with cartridge 58094 (II) 220-240v, safety ladder and pool cover.
PRODUCT SPECIFICATION
Brand:
BESTWAY
Range:
Power Steel
Includes:
Winter Debris Cover
Ladder
Pump
Box Length:
775 mm
Box Height:
1160 mm
Box Width:
505 mm
Code:
56448
Pool Length:
16ft
Pool Width:
10ft
Pool Depth:
42in
Shape:
Oval
Gre KITPR303W Sicily
The best round above ground pool with wooden design
Removable round rigid PVC garden pool
Steel structure and injection protectors
Wood effect design
Dimensions 300 x 120 cm
Blue 30/100 inner lining in PVC with anti-UV treatment
3.8m³ / h motorized cartridge skimmer
2 stairs with 3 steps
Protection angle
4 side reinforcements
Characteristics:
Manufacturer: Gre pools.
Shape: Round.
Commercial Measurements: 300 x 120 cm (diameter x height).
External measurements: 320 x 122 cm (diameter x height).
Interior measurements: 300 x 120 cm (diameter x height).
Necessary Space: 350 x 350 cm (length x width).
Volume: 7,418 liters.
Swimming area: 7,054 m2.
Water Line Height: 105 cm.
Warranty: 4 years on the metal structure and 2 years on the rest of the components.
Equipment:
Wall: 45/100 thick galvanized steel sheet. The plate is stamped for the filter skimmer.
Profiles: It has 8 vertical profiles of 12 cm wide to obtain greater resistance and 8 horizontal profiles of 150×1145 mm.
Trims: Injection protectors at the top junction of the horizontal profiles.
Finish: Galvanized sheet steel lacquered in imitation wood. Galvanized steel profiles lacquered in brown. Brown PVC trims.
Liner: 30/100 blue PVC, with overlap system. Anti-ultraviolet treatment (delays the aging of PVC).
Treatment plant:Cartridge filter 3.8 m3 / h 70 W (0.09 hp). AR125 model in brown.
Ladder: Safety ladder with platform. It is made of galvanized steel and lacquered in white with 6 steps, an upper platform and a removable front. (Allows you to remove the steps on the outside to prevent children's access to the pool and prevent accidents).
Optional Equipment:
E-Kit: Now you can optionally choose your pool with the E-KIT pack at a reduced price. The pack consists of the summer cover, the winter cover and the Blue Check with which you can analyze the quality of the water.
Installation:
– It must be placed elevated above the ground.
– It can be installed on any smooth, firm and completely level ground. A concrete platform is not required.
– A floor mat (not included) must be used.
– Fastening system: It does not need any type of fixing to the ground. It should not be screwed on.
– The estimated installation time is 2 hours with 2-3 people.

Gre pools are subject to the legal guarantee established by the General Law for the Defense of Consumers and Users, of 2 years from the date of purchase, and in accordance with its terms. We remind you that for the guarantee to be applicable, you must present the document proving the purchase and / or delivery of the product.

Manufacturas Gre also grants a commercial guarantee of 2 additional years for this pool model, that is, a total of 4 years, exclusively with respect to the metal parts of the pool structure. Said additional commercial guarantee will not affect the rights of the consumer under the legal guarantee.

The following are excluded from both guarantees:
– The Cover (PVC Liner) in case of disassembling and reassembling the pool;
– Stains or discolorations that may appear on the cover derived from its use;
– Damage to the pool that derives from poor preparation of the land in which it is located.
– Damage to the pool derived from its burial.
– Any damage to the pool derived from its misuse, in accordance with the instruction manual.

Likewise, all plastic parts will be excluded from the additional commercial guarantee, that is:
– The liner or cover
– The trim parts
Intex 26352 Ultra Frame
Removable rectangular garden pool
Dimensions 549 x 274 x 132 cm
17200 liter capacity
Sand pump 4,500 l / h (pump flow)
4,000 l / h system flow
Quartz sand capacity 35 kg
Galvanized steel frame
Canvas with 2 external PVC layers and internal polyester mesh
Cover canvas
Base canvas
Stair resistant to external agents
Step-by-step instruction manual with DVD
Intex pool 26356 Ultra Frame rectangular with ladder and tubular support structure, sand filtering pump and cover sheets included, perfect for enjoying the summer in the backyard
The line of Intex Above-ground Ultra Frame Rectangular pools is easy to assemble thanks to a new method for which no more clips are needed to connect the metal parts. The elegant gray color of the Intex model 26356 (New Model of the Intex version 26352) increases the value of an extremely solid, flexible and long-lasting pool. It has a greater thickness and section than traditional frame models to increase resistance to water pressure and consumer use. All edges are rounded and rounded for child safety.
PVC uses SUPER -TOUGH ™ technology and consists of three layers: an inner and outer layer in thick and durable PVC and an intermediate layer in polyester.
Technical features:
Above ground pool INTEX ULTRA FRAME 26356
Practice to be assembled and disassembled, thanks to a new method for which you no longer need clips to connect the metal parts.
Dimensions 549 x 274 x 132 cm
ULTRA FRAME rectangular pool in treated steel resistant to rust and corrosion.
It is made of SUPER -TOUGH ™ PVC which consists of three layers: an inner and outer layer in thick and durable PVC and an intermediate layer in polyester.
The pool will be supplied complete with the following accessories:
Sand pump for water filtration from 4.542 liters / h (recommended use with this pool for 4/5 h per day)
Ladder
Cover sheet
Sheet to put at the base
Dimensions:
Pool 549 Cm Length x 274 Cm width x 132 Cm height
Floor space 605 x 330 cm
Water capacity 17,203 liters at 90%
Intex 28404EX – Inflatable Bubble Spa
The best above ground pool with whirlpool
Description
The Intex PureSpa Bubble Massage Inflatable Spa Set creates a relaxing environment with 140 heated bubble jets, soothing warm water and soft, comfortable spa walls.
Round inflatable hot tub
Comfortably fits up to 6 people
Easy-to-use
Tilt-adjustable control panel
Water temperature reaches a relaxing 104 Fahrenheit
Puncture-resistant 3-ply laminated material
Extra durable Fiber-Tech Construction – lightweight, high-strength fibers for amazing durability and comfort
140 high-powered bubble jets for relaxation
Water Capacity: 290 Gallons
Built-in inflation system
Includes a carry bag for easy storage and transport
Simple maintenance with two easy-to-replace Type S1 filter cartridges
Approximate Inflated Size: Inner/Outer Diameter: 65″ / 85″ Height: 28″
---
Details:
Unwind with Intex PureSpa Bubble Massage Spa. PureSpa provides relaxation at the touch of a button for up to 6 people with easy-to-use control panel that activates140 soothing bubble jets surrounding the spa interior The heating system adjusts to fit your personal preference, allowing for a stress-free spa experience.
Intex PureSpa Inflatable Hot Tub provides relaxation at the touch of a button. The easy-to-use control panel activates the high performance bubble jets surrounding the interior of the spa for a refreshing massage. The heating system adjusts to fit your personal temperature preference for maximum relaxation. PureSpa provides simple maintenance with easy-to-replace filter cartridges for lasting enjoyment for up to 6 people.
Includes: tub, insulated cover, heating filtration, air blower, hard water system, two filter cartridges, thermal ground cloth, inflation hose, carry bag, floating chlorine dispenser, and test strip.
---
Specs:
| | |
| --- | --- |
| Product Type: | Spa |
| Manufacturer: | Intex |
| Spa Type: | Inflatable |
| Color: | Sahara Tan |
| Accomodates: | 6 |
| Gallons: | 290 |
| Shipping Weight: | 109 lbs |
| Height: | 28 inches |
| Shape: | Round |
| Jets: | 140 Bubble Jets |
| Dimensions: | 85″ X 28″ |
---
Warranty:
One (1) Year Limited Warranty on Product, see Owner's Manual for a full description of warranty claims and coverage details.
Intex 26726 NP
Intex Prism Frame swimming pool an above-ground pool in which you can really swim. The Intex Prism Frame pool is an ideal choice. Its undeniable advantages include easy installation, stable construction – a newly developed unique metal frame and a pleasant design. Relax in our Intex Prism Frame pools. There are entrances in the pool for the connection of sand and cartridge filtration of your choice.
MATERIAL AND QUALITY:
It is made of three-layer PVC SUPER-TOUGH® and has a solid vinyl bottom. This very strong material consists of a polyester backing fabric with strong, double-sided laminated PVC. SUPER-TOUGH® is resistant to salt water and is particularly resistant to abrasion, impact and sunlight. All you have to do is build a structure and fill it with water. Draining is provided by a drain valve.
POOL AND FILTRATION CONNECTION:
The pool is supplied with Intex cartridge filtration with a capacity of 3.785 m3 / hour, including 2 hoses (diameter 32 mm, length 1.5 m), connecting material and passages through the pool wall.
Passages through the wall of the pool with a diameter of 32 mm (5/4 ") are prepared for the connection of the filtration. It is also possible to connect sand filtration to this pool. We recommend Intex sand filtration 4m3 / h.
HYDRO AERATION TECHNOLOGY:
The Intex pool is equipped with "Hydro Aeration Technology" – a special attachment creates bubbles that aerate the water. This is an innovation in the field of water purification in the pool. Mixing air with water causes aeration to oxidize iron and manganese, thus removing impurities in the water. The result is sparkling water in the pool, which looks great!
CONSTRUCTION:
The construction of this pool series resists rust and corrosion, and comes standard with a powder coating. All edges are rounded to avoid the risk of injury to children. Rough pins made of POM plastic ensure safe locking of the individual parts to each other.
POOL PARAMETERS:
Diameter: 4.57 m
Height: 1.22 m
Water level 10 cm lower than the height of the pool
3 layers of SUPER-TOUGH® material
Volume: 16805 l (at 90% filling)
Floor thickness 0.35 mm,
Wall thickness 0.58 mm

PACKAGE CONTENTS:
Swimming pool
Cartridge filtration 3785 l / h
Filter insert type A
Wall transitions
Connecting hoses Ø 32 mm 2 pcs with a length of 1.5 m
Safety steps max. load 136 kg
Pool mat PE 75 g / m2
Vinyl tarpaulin, tarpaulin thickness: 0.18 mm
Instructions for use (above product description)
WARRANTY: 2 YEARS
Freestanding pools
The storable pools (usually round) are the cheapest and most practical to assemble. Ideal for smaller contexts, they adapt to occasional use and can be closed and stored without any particular bulk.
This category includes both inflatable pools (without support), as well as the most resistant ones in soft PVC, with an inflatable joint that acts as a self-support . All these pools are suitable for children. The only downside is that they can easily get punctured if you're not careful when moving or folding them.
However, in most cases, the material (for example, three-layer laminated PVC) is resistant to both impact and possible abrasion. Thanks to their smaller size and capacity, these pools are the only ones that can be filled and emptied every day . It is better to place them on a flat ground without stones.
Framed pools
On the other hand, pools to be mounted with a rectangular or round frame are a fixed solution compared to the freestanding one, but much more durable and less prone to punctures. Equipped with an external tubular structure to support the edge and the canvas, these pools can also be covered if necessary.
The shape is generally round or rectangular. Naturally, this type of removable pools with mounting included are adapted to continuous use, while in the winter months the advice is always to disassemble them to prevent the cold and bad weather from ruining them.
Rigid raised pools
The pools rigid high are more customizable but also the most expensive. From an aesthetic point of view, they are a refined and elegant solution , perfect for those who have a lot of space and for those who want to make their garden a charming place.
The only disadvantage is that they cannot be disassembled and reassembled because the structure could be damaged, therefore, these are fixed installations that also require some maintenance . Among these are the raised pools in stainless steel and wood .
Materials and design
Generally, freestanding and framed pools use layers of PVC for the tarpaulin and polyester for the internal structure. This combination of materials confers great resistance and durability . The external structure that supports the sheet, on the other hand, is generally made of steel, while the removable corners are more flexible in the event of a collision.
The high PVC pools are one of the cheapest solutions, have a softer texture leaning on a rigid skeleton. Installation is simple and, right in front of the material with which they are built, they guarantee a reasonable duration. Better if the finishes are with high frequency heat sealing.
P ara those looking for a more aesthetically beautiful product, can choose resistant removable steel pools corrosion, easy to assemble and disassemble, elegant and very modern. The base canvas that is used in the lower part also allows you to install it even on land where the base is not perfectly level.
For those seeking an even more luxurious and effective solution, ideally they are the removable pools resistant wood with steel and PVC interior. Its strength is to recreate a corner of relaxation and elegance in any garden.
The best models of wooden covered design removable pools are made with cutting-edge technologies and the highest quality materials treated to resist the sun, bad weather, bacteria and mold.
The most common shape is square and rectangular, but we also find oval or octagonal models , very fascinating.
Very often, then, special finishes and coatings are applied to steel or wood pools to further enhance aesthetics. The most popular materials are decorative panels with a brick, stone or concrete effect.
For removable covered pools , however, the most requested material is always Nordic wood, preferably with anti-insects and treatment to be outdoors. Very interesting are also the rigid raised fiberglass pools that are particularly resistant to water pressure.
Dimensions
An important element to take into account is the space available for installation, which must be without slopes and without objects that could obstruct the structure.
The positive aspect is that in the market the same model is rejected in multiple dimensions precisely to satisfy the needs of all. However, the larger products have very high prices, as the materials must be of higher quality to support a heavy structure and withstand the stresses.
Another aspect that should not be overlooked is the fact that the size of the pool should also be evaluated based on the number of people who will use it . From a deep point of view, in general, freestanding pools are those with the lowest water level to offer safety in case of small children.
The pools rigid and frame suitable for three or four standard sizes are 300 x 200 cm with a depth of 80-130 cm. Some models also reach 500 x 300 cm.
From the point of view of form, the pools rigid and with frames are mostly rectangular allow give some small strokes, although the actual need much larger swimming pools.
The freestanding ones are made with round lines and a shape that only allows you to cool off on hot days, but not swim. In recent years, some well-known brands have started to distribute rectangular inflatable pools that, compared to the round ones of the past, have a more attractive and more functional design.
Ability
In addition to the length and width, the parameters to verify are the depth of the pool and the capacity . The last aspect obviously affects consumption and utility bills .
To give an example, a 3 meter by 2 meter 80 cm high pool has a capacity of approximately 4000 liters. Taking into account the capacity of the well, an idea of consumption is given , the frequency with which the pool will be emptied and filled, as well as the necessary maintenance interventions to avoid continuous water changes.
In the cases of raised pools with frames and removable rigid pools where the capacity is considerable and the water cannot be changed very frequently, it is advisable to always keep the pool clean and prevent bacteria and algae from stagnating and causing bad odors. .
There are specific anti-algae products, but the most common disinfectant of all is chlorine , available in powder or tablet form. Once applied, the chlorine concentration in the water should be measured.
The best above-ground pools already include a special kit. If the presence of chlorine is too high, it could cause irritation to the skin and eyes, therefore, it must be reduced with special products, waiting for the situation to be regular before bathing.
Accessories
A good set of filters and accessories simplifies use and improves cleaning operations.
It is true that accessories can also be purchased separately, but the presence of a complete pool maintenance kit means that we can immediately start using the pool with complete peace of mind.
Among the essential accessories we find, first of all, nets or meshes for ordinary cleaning operations and a tarp to cover the pool .
This is particularly useful if you do not use the pool for a few days, for example in the event of rain, or if you want to prevent it from getting soiled with leaves or infested with insects at night. Additionally, the closed tarp discourages children from using the pool without adult supervision.
The best are those equipped with a moving ladder , especially present in upper-middle-range products. This extra makes diving, swimming and going out more practical, but it is not present in the shallower models.
However, in rigid pools, the fixed ladder is arranged on one or more sides. A practical mat or base canvas should never be lacking to prevent the water that comes out of the pool from ruining the garden lawn.
Better also to verify the presence of a pH meter of the water . If the pH is basic, in fact, incrustations may appear in the internal structure of the pool, if instead it is acidic, the water irritates the skin. In these situations, you can buy concealers that return the pH to normal levels.
Models pools high highest also come with a pool heater . This tool is powered by electricity or solar energy and can heat the water and also spread jets of hot bubbles for a pure relaxation experience even outside of the summer season.
Finally, the presence of clear instructions and videos for assembly is essential , always present in the best removable pools of the best-known brands.
Filtration system
The filtration system and the pumps guarantee the quality of the water and reduce the costs of cleaning and maintenance of the pool. Filters absorb water and any impurities (such as insects and leaves) and are also important for our health.
The filters for removable pools currently on the market are of two types:
Cartridge filter capable of retaining even microscopic particles. This filter is mainly suitable for small and medium swimming pools. Also, it should be rinsed well with water and replaced regularly at least after about 20 days of use.
sand filter with filter pump that manages to retain even 99.9% of the microparticles with a higher water recirculation speed than other filters. This system is bulkier than the cartridge system and is well suited for larger pools. A flocculant is used with the sand filter, which serves to add the smallest particles.
The best removable pools also include an instrument called a skimmer , a unit equipped with a filter that sits flush with the pool surface and constantly cleans.